Chemistry (Master)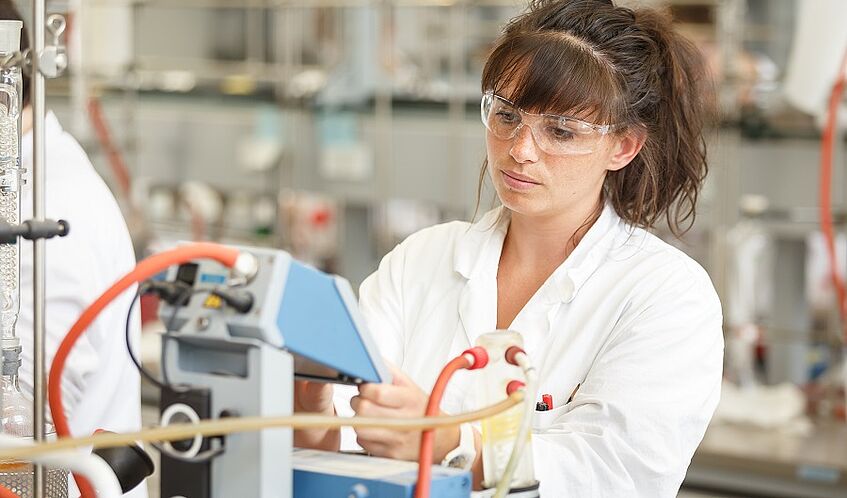 The master's programme in Chemistry at the University of Vienna aims at equipping students with sound knowledge of the selected subject areas. At the same time, it places particular emphasis on a diversified education. The master's programme has a modular structure. Students can choose from an extensive list of available modules. This enables students to select specific areas of specialisation during their master's programme, and thus organise their studies according to their own interests. At the same time, it allows them to develop a broad professional profile. This provides students with the opportunity to gain both in-depth knowledge of the subjects they selected, and competences in the entire width of modern chemistry.
Master of Science
Degree Programme Code: 066 862
4 semesters / 120 ECTS credits
Language: German
NO entrance examination
Attention
Instruction Language German
Study Programme
The master's programme in Chemistry consists of three parts: the advanced courses, the supplementary modules, and the master's thesis and master's examination. Within the framework of the elective modules, students have to complete individual courses in the extent of 10 ECTS credits each. The groups of elective modules cover the subject areas of analytical chemistry, inorganic chemistry, biological chemistry, food chemistry, materials chemistry, organic chemistry, physical chemistry, as well as theoretical chemistry and spectroscopy. Each subject area comprises blocks of 10 ECTS credits, covering both in-depth knowledge of general topics, as well as knowledge of current fields of research. This way, students can further practice and expand the skills they acquired during the bachelor's programme. At the same time, they have the opportunity to deal with current research questions already at an early stage. In addition, students have to complete an elective module to expand their knowledge in the field. They can choose between a further specialisation in the field of chemistry, and/or an education in subjects that represent a valuable addition to the programme outcome of the master's programme in Chemistry.
Five Concepts
which you will deal with during your studies (examples):
Petrochemistry

Environmental diagnostics

Food chemistry

Nanotechnology

Solids chemistry
Overview of the programme structure & topics
Here you find the current offer of courses for this programme to gain better insight into the topics and structure. For more information please click on the respective level.
After Graduation
Based on their scientific training, graduates of the master's programme in Chemistry are qualified for a career in the following occupational fields:
academic career in private and public higher education and research institutions (e.g. in chemical, petrological and medical fields with a chemical focus)

chemical and pharmaceutical laboratories, quality control, process monitoring (from start-ups to large-scale industry)

public administration in the chemical, environmental and medical field (e.g. in risk assessment, chemical safety and immission protection)

product development, production- and quality control in chemical industry, as well as related fields, such as petrochemistry or food chemistry

product management for companies working in the area of chemistry or related areas

chemical analysis, medical and environmental diagnostics (industry, clinics, private companies)

patent system (national / international organisations and companies)

consulting.
Graduates' Perspective on the Degree Programme
Graduate Survey
The University of Vienna regularly surveys graduates after the completion of their degree programmes about their experience with their degree programme and the university itself. The survey gives you insight into graduates perspectives of their studies from a subject and organizational related point of view.
Career Tracking of Graduates
The alumni tracking provides information on the career progression of the graduates of the University of Vienna and provides orientation for entry into the profession after graduation (e.g. search duration of first job, salary development and sectors in which graduates are active).