Chemistry and Materials Technology (Master)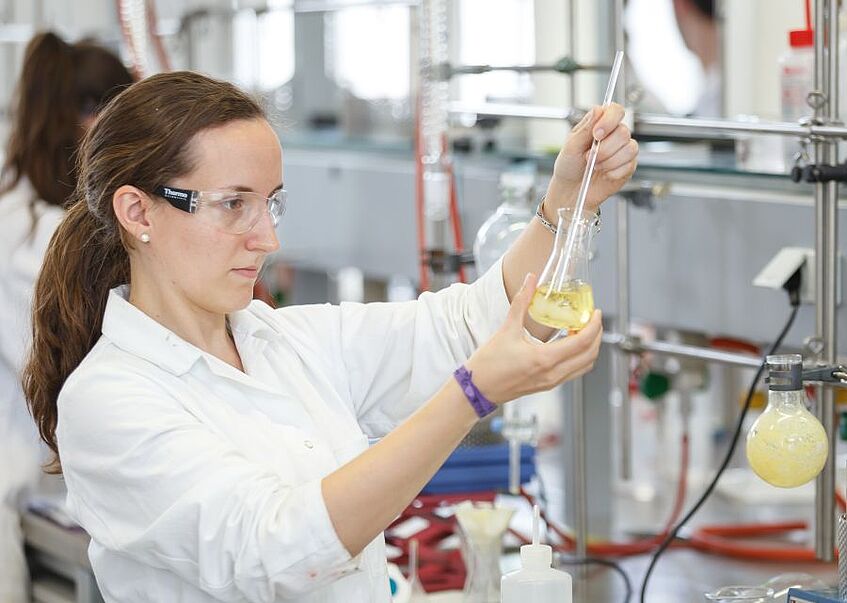 The master's programme in Chemistry and Materials Technology provides a broad education that is of high quality in terms of content and methods, and aims at equipping students with long-term knowledge. It enables graduates to further specialise within the scope of a subject-specific doctoral programme, as well as embark on a career at the interface between chemistry and materials technology. Based on their education, graduates of the master's programme in Chemistry and Materials Technology are able to compete internationally. The principles of chemistry and physics form the basis for graduates' broad understanding of the relationships between composition, structure and morphology of materials, as well as their chemical and physical properties. Their competences in the area of chemistry enable them to synthesise, modify and characterise materials for various purposes.
Dipl.-Ing./DI
Degree Programme Code: 066 658
4 semesters / 120 ECTS credits
Language: German
NO entrance examination
Attention
Instruction Language German
Study Programme
The master's programme in Chemistry and Materials Technology consists of a compulsory module, comprising courses on the fundamentals, and courses that serve to harmonise the students' different levels of previous knowledge. In addition, it consists of a block of elective modules, where students have to choose five modules out of various groups of modules, covering a range of subject areas (characterisation of materials, functional and structural materials and their applications, material classes and synthesis, theory and fundamentals of materials and their properties, as well as mechanics and processing of materials). Furthermore, students have to complete an optional module, which they can choose freely, and write a diploma thesis. Finally, they have to pass a final examination before an examination committee.
Five Concepts
which you will deal with during your studies (examples):
Material science

Material synthesis

Interface chemistry

Polymer chemistry

Solids chemistry
Overview of the programme structure & topics
Here you find the current offer of courses for this programme to gain better insight into the topics and structure. For more information please click on the respective level.
After Graduation
The theoretical and practical skills acquired during the degree programme enable graduates to apply the relevant methods in synthesis, processing and characterisation in a problem- and target-oriented manner. Furthermore, they are able to select material that is appropriate for the respective application purpose. Graduates of this master's programme are able to develop solutions to issues in the area of materials chemistry, both independently and in collaboration with engineers, physicists, material scientists and other scientists.
Graduates' Perspective on the Degree Programme
Graduate Survey
The University of Vienna regularly surveys graduates after the completion of their degree programmes about their experience with their degree programme and the university itself. The survey gives you insight into graduates perspectives of their studies from a subject and organizational related point of view.
Career Tracking of Graduates
The alumni tracking provides information on the career progression of the graduates of the University of Vienna and provides orientation for entry into the profession after graduation (e.g. search duration of first job, salary development and sectors in which graduates are active).