Astronomy (Master)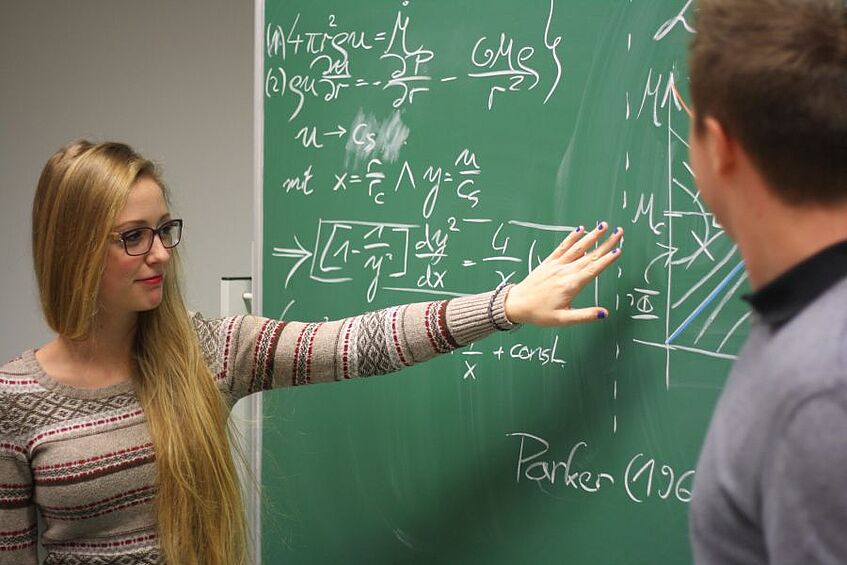 Graduates of the master's programme in Astronomy are able to independently implement research-oriented projects in the field of astronomy and to critically assess and independently use existing specialist literature. They have received training in the use of technically sophisticated measuring and observation instruments as well as modern large-scale astronomical equipment. Furthermore, they have acquired the necessary competences to analyse, model and interpret intricate systems and develop a systematic scientific way of thinking, enabling them to address complex problems.
Master of Science
Degree Programme Code: 066 861
4 semesters / 120 ECTS credits
Language: German
NO entrance examination
Attention
Instruction Language German
Study Programme
In addition to a research seminar, students have to complete at least 6 modules from a group of compulsory modules. Please note that students have to complete at least one module from each of the following subject areas: Galaxies and Universe, Stars and Planets, Astronomical Instrumentation and Methods. For the group of compulsory modules, students can select courses from the degree programme in Astronomy as well as from related natural science programmes. To successfully complete the master's programme, students have to write a master's thesis and pass a master's examination.
Five concepts
which you will deal with during your studies (examples):
Galaxy formation

Extragalactic astronomy

Stellar structure

Exoplanets

Astronomical instrumentation
Overview of the programme structure & topics
Here you find the current offer of courses for this programme to gain better insight into the topics and structure. For more information please click on the respective level.
After Graduation
Graduates can pursue a career in the following occupational fields: Space Research Institute; Austrian Academy of Sciences; Austrian university departments offering a degree programme related to astronomy (Vienna, Graz and Innsbruck); university departments with a mathematical, physical and chemical emphasis; departments of the Austrian Academy of Sciences; international organisations, such as the European Space Agency (ESA) and the European Southern Observatory (ESO). Apart from university teaching, graduates of the master's programme are qualified to work at public observatories, planetariums, adult education centres, as well as in the area of science journalism and at museums.
Graduates' Perspective on the Degree Programme
Graduate Survey
The University of Vienna regularly surveys graduates after the completion of their degree programmes about their experience with their degree programme and the university itself. The survey gives you insight into graduates perspectives of their studies from a subject and organizational related point of view.
Career Tracking of Graduates
The alumni tracking provides information on the career progression of the graduates of the University of Vienna and provides orientation for entry into the profession after graduation (e.g. search duration of first job, salary development and sectors in which graduates are active).