Transcultural Communication (Bachelor)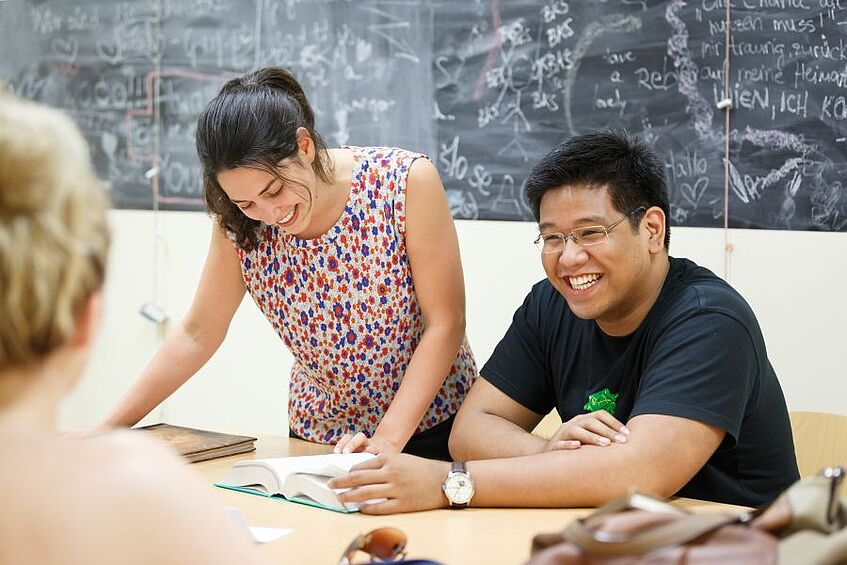 The bachelor's programme in Transcultural Communication strives to impart basic academic knowledge and methods as well as practical skills, preparing students for a profession in the area of transcultural communication. Students acquire a high level of language and cultural competence as well as contrastive (subject-specific) text competence in three working languages – German in combination with two additional working languages. Therefore, the bachelor's programme develops students' basic translation competences. Students can choose from the following languages: German, Bosnian/Croatian/Serbian, English, French, Italian, Polish, Portuguese, Romanian, Russian, Spanish, Czech, Hungarian.
Bachelor of Arts
Degree Programme Code: 032 xxx xxx
6 semesters / 180 ECTS credits
Sprache: German & two further languages (available options: Bosnian/Croatian/Serbian, English, French, Italien, Polish, Portuguse, Romanian, Russian, Spanish, Czech, Hungarian)
Attention
Instruction Language German
Getting Informed
Questions about the Degree Programme:
Study programme
The bachelor's programme in Transcultural Communication consists of an Introductory and Orientation Period (STEOP) and additional compulsory modules: Further Consolidation of Language Competence; Language and Communication B-Language; Language and Communication C-Language; Meta Skills (project management, presentation techniques, media literacy); Culture and Communication – Further Consolidation; Scientific Foundations; Text and Discourse – Basic Level and Further Consolidation; Specialised Communication and Knowledge Transfer; Basic Translation Competence 1 and 2; Professional Profiles and further Specialisations. To successfully complete the programme, students have to write a bachelor's thesis.
Five concepts
which you will deal with during your studies (examples):

Language, text and culture

Transculturality

Specialised communication

Multilingualism

Discourse analysis
Overview of the programme structure & topics
Here you find the current offer of courses for this programme to gain better insight into the topics and structure. For more information please click on the respective level.
After Graduation
Graduates of the bachelor's programme are qualified to communicate contents in a range of different communication situations and for a variety of target groups and cultures in their working languages. This enables them to pursue a career in a variety of occupational fields in the business sector or public administration, as well as with public, private and cultural institutions and companies that cooperate with partners around the world and have an international clientele.
Graduates' Perspective on the Degree Programme
Graduate Survey
The University of Vienna regularly surveys graduates after the completion of their degree programmes about their experience with their degree programme and the university itself. The survey gives you insight into graduates perspectives of their studies from a subject and organizational related point of view.
Career Tracking of Graduates
The alumni tracking provides information on the career progression of the graduates of the University of Vienna and provides orientation for entry into the profession after graduation (e.g. search duration of first job, salary development and sectors in which graduates are active).