Sport Science (Bachelor)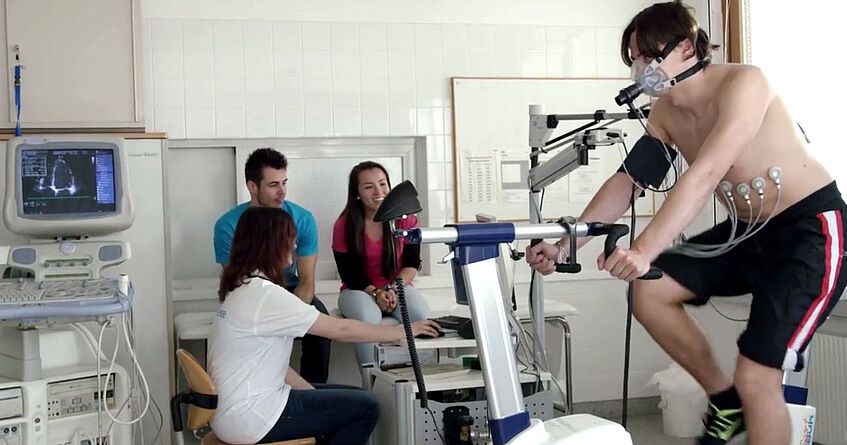 The bachelor's programme in Sport Science aims at imparting central competences in the area of sport science, sport didactics and sport organisation as well as training-specific competences. It qualifies students to work successfully in a wide range of sport-related and exercise-related occupational fields. Before starting to study, students have to complete a supplementary examination to prove that they have the necessary physical and motor skills for the programme.
Attention
Instruction Language German
Study Programme
The bachelor's programme in Sport Science consists of an Introductory and Orientation Period (STEOP) and compulsory modules on the subdisciplines of sport science. Towards the end of the bachelor's programme, students have to select an alternative compulsory module (Health Promotion, Prevention, Rehabilitation and Fitness, or Sport Management). To successfully complete the programme, students have to write a bachelor's thesis.
Five Concepts
which you will deal with during your studies (examples):
Exercise physiology

Psychology of sport

Sport education

Sociology of sport

Biomechanics
Overview of the programme structure & topics
Here you find the current offer of courses for this programme to gain better insight into the topics and structure. For more information please click on the respective level.
After Graduation
Graduates are qualified to deal with topics and questions related to exercise and sport based on findings of sport science. In addition, they know how to implement target group-oriented concepts and sport offers. Furthermore, they are able to adapt to the demands of new areas of practice and target groups, reflect on their own gender role, expand their subject-specific knowledge and knowledge related to sport practice, and lead different types of groups in sport.
Graduates' Perspective on the Degree Programme
Graduate Survey
The University of Vienna regularly surveys graduates after the completion of their degree programmes about their experience with their degree programme and the university itself. The survey gives you insight into graduates perspectives of their studies from a subject and organizational related point of view.
Career Tracking of Graduates
The alumni tracking provides information on the career progression of the graduates of the University of Vienna and provides orientation for entry into the profession after graduation (e.g. search duration of first job, salary development and sectors in which graduates are active).