Computer Science (Bachelor)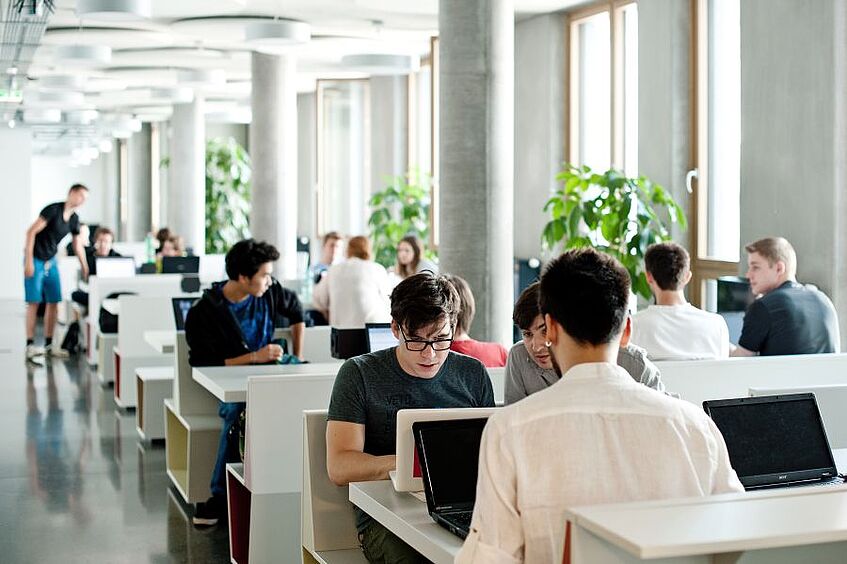 The bachelor's programme in Computer Science provides students with an academic education, encompassing theory, specialised knowledge and practical knowledge in the area of computer science. Students learn how to apply methods and tools from the area of computer science, contribute to research and the further development of research in the field, and use methods, procedures, tools and systems from the field of computer science to solve problems of practical relevance. The degree programme can either focus on a broad range of subject areas, allowing students to familiarise themselves with different areas of specialisation. These include algorithms, computer graphics, data analysis, information management and systems, Internet computing and software technologies, multimedia, networks and parallel computing. Alternatively, students can specialise in one of the following specialisation subjects: data science, media informatics, medical informatics, scientific computing.
Bachelor of Science
Degree Programme Code: 033 521
6 semesters / 180 ECTS credits
Language: German
Attention
Instruction Language German
The Registartion Period for the Entrance Exam Procedure to this Degree Programme has ended on 3 June 2019.
Getting Informed
Questions about the Degree Programme:
Study programme
The bachelor's programme in Computer Science consists of an Introductory and Orientation Period (STEOP), two groups of compulsory modules in computer science and mathematics, as well as alternative compulsory modules. To successfully complete the bachelor's programme in Computer Science, students have to write a bachelor's thesis in the specialisation subject they selected (computer science, data science, media informatics, medical informatics, scientific computing).
Five concepts
which you will deal with during your studies (examples):
Software engineering

Programming

Algorithms

Modelling

Information security
Overview of the programme structure & topics
Here you find the current offer of courses for this programme to gain better insight into the topics and structure. For more information please click on the respective level.
After Graduation
Graduates can pursue a career in the following occupational fields:
software development

network administration

hardware development

IT project management

marketing or sales activities in IT companies

management consulting in the IT area

coaching in computer science

teaching computer science at higher-level secondary technical and vocational colleges and academic secondary schools

academic research at universities or research institutions.
Graduates' Perspective on the Degree Programme
Graduate Survey
The University of Vienna regularly surveys graduates after the completion of their degree programmes about their experience with their degree programme and the university itself. The survey gives you insight into graduates perspectives of their studies from a subject and organizational related point of view.
AbsolventInnen-Tracking
Das AbsolventInnen-Tracking stellt Informationen zu Karriereverläufen der AbsolventInnen der Universität Wien zusammen und kann Ihnen eine Orientierung für Ihren Berufseinstieg nach dem Studienabschluss bieten (z.B. Fragen zur Suchdauer für die erste Beschäftigung, Gehaltsentwicklung und Branchen, in denen AbsolventInnen tätig sind).